An ongoing feud between one labor union and an automaker may cost thousands of jobs in Lordstown, Ohio.
The Lordstown Assembly Complex in Lordstown, Ohio has been the lifeblood of that town since 1966. Currently, the factory is owned and operated by General Motors, while the workforce is represented by the United Automobile Workers, an international worker's labor union. In late November, GM announced that the factory, along with four others in the US, would close in 2019.
In the months following the announcement, there has been a furious battle to save the plant in any capacity. Very early on in the effort, then-outgoing Governor John Kasich, made it clear that the future of the plant would be with an "alternative" to GM.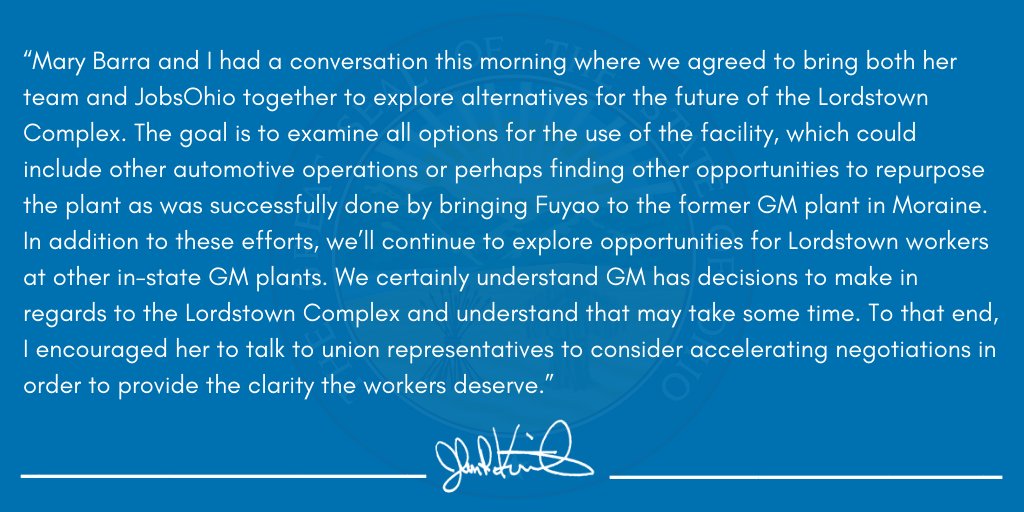 This statement seemed to make it clear that that was no chance GM would keep the plant open while indicating that the only future for the facility would be with another company. Kasich then began reaching out to Tesla Motors CEO; Elon Musk who expressed interest in Tesla acquiring the plant.
For months, this was as far as the public knew negotiations had gone. Then, in January, GM CEO Mary Barra revealed that there were no ongoing negotiations with Tesla for a surprising reason. She stated:
Tesla is not interested in our GM work force represented by the UAW, so really, it's a moot point.
Tesla's only response to this was "no comment." To say labor unions and Tesla have had a rough history is an understatement.
In 2017, according to the U.S. Department of Labor, the UAW spent almost half-a-million dollars on ads, t-shirts, flyers, hats, and other promotional material, all aimed at protesting, disrupting and challenging the controversial startup.
Tesla Motors, for its part, has no affiliated labor unions at any of its facilities. Elon Musk maintains that his workers are free to form one. The UAW has filed complaints against the company alleging that the Musk actively fires and punishes employees who have attempted to form unions. Musk denies this but has said that doesn't feel one is necessary and would be detrimental to the company's mission.
Nothing stopping Tesla team at our car plant from voting union. Could do so tmrw if they wanted. But why pay union dues & give up stock options for nothing? Our safety record is 2X better than when plant was UAW & everybody already gets healthcare.

— Elon Musk (@elonmusk) May 21, 2018
With a planned massive expansion, the company's feud with the UAW is sure to ramp up.
In between all of this is the Lordstown plant that is currently represented by UAW Local 1112. The question now is; if the UAW is unwilling to work with any company that doesn't have union representation, yet no company with union representation will take the plant over; will they force the plant into closure? It appears that might be the case.
The plant has 3,500 workers employed at its peak. Though this may seem relatively small, the communities surrounding it are entirely dependent on the plant's existence. Historically, once factories like this shut down, the surrounding areas become modern day "ghost towns." This is why so many are fighting tooth and nail to convince GM to keep the plant alive.
Currently, the plant is slated to close sometime after March 1st this year.
– – –
Andrew Shirley is a reporter at Battleground State News and The Ohio Star. Send tips to [email protected].
Photo "Lordstown Complex" by Lordstown Assembly.