Brentwood, Tennessee – At the fifth National Constitution Bee, held at the SpringHill Suites Marriott on Saturday, Team Tennessee ran away with the National Constitution Bee teams competition's top prize.
This year, the National Constitution Bee had a total of twenty-two students competing for the Grand Championship that included a $10,000 education scholarship.
Students were put into groups upon arrival, determined by their hometown.
National Constitution Bee contestants earned points for their team in three ways.
First, a point was awarded for every participant that won during the Preamble round. Second, contestants could earn a point for every correct answer in the Friends from the Court during the Elimination Round – regardless of whether or not the correct answer was used.
Finally, the contestants who won the Grand Championship, Second Place, and Third place each earned their team five, four, and three points, respectively.
When the team points were tallied at the end of the competition, Team Tennessee was the winner with a commanding 20 points.
A large part of Team Tennessee's win was due to the efforts by Junior Robert Keeton from Knoxville, Tennessee, who, with his run of correct answers from the "Friends of the Court" during the Elimination round, earned his team a whopping nine points.
Team Tennessee added to that five points with the award of Senior Braeden Farley from Spring Hill, Tennessee as the National Constitution Bee Grand Champion; and another four points were added thanks to Second Place National Constitution Bee winner Junior Charles Jacob Foltz from Martin, Tennessee.
Each member of Team Tennessee was given a $100 cash prize.
Team Nashville received two points, from 8th Grader Student Reagan Schmicker, from Brentwood, Tennessee who won for the Most Creative Preamble; she sang the who, what, and why of the Preamble; and Matthew Feragola, from Smyrna, Tennessee  who won for the Most Entertaining Preamble; he played a song on his guitar where he presented the Preamble.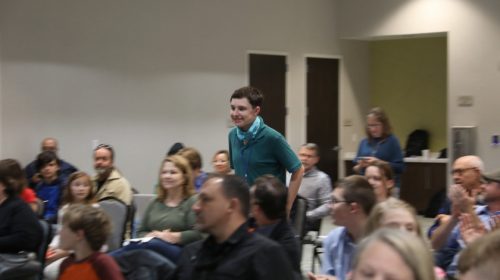 Team Stewart County received one point, from Joseph Semler who won for the Most Persuasive Preamble; he explained in detail what the Preamble was and what it stood for. In his presentation, Semler used an example from the Jacobson v. Massachusetts trial where a pastor in 1905 argued that a vaccination mandate was violating his rights defined by the Constitution.
Team USA did not receive any points.
From Team Nashville:
Junior Matthew Feragola from Smyrna, Tennessee
Sophomore Gianna Ross from Thompsons Station, Tennessee
Junior Daniel Budd from Brentwood, Tennessee
8th Grader Reagan Schmicker from Brentwood, Tennessee
Junior Sloan Hoesel from Brentwood, Tennessee
Freshman Allison Hoesel from Brentwood, Tennessee
Freshman Reese Avery from Nashville, Tennessee
From Team Stewart County:
Senior Joseph Semler
Senior Conor Slawson
Junior Madalene Sisemore
From Team USA:
Junior Alea VanDeVelde from Golden, Illinois
Senior Kaitlin Rocca from Brentwood, New Hampshire
Senior Karthik Valiveti from Roswell, Georgia
Junior Ian Mathew from Little Elm, Texas
And, from Team Tennessee:
Freshman Haven Gee from Signal Mountain, Tennessee
Freshman Noah Raby from Cheatham County, Tennessee
Junior Charles Jacob Foltz from Martin, Tennessee
Junior Presley Richards from Springfield, Tennessee
Junior Robert Keeton from Knoxville, Tennessee
Sophomore Cameron Rodewald from Murfreesboro, Tennessee
Senior Braeden Farley from Spring Hill, Tennessee
– – –
Morgan Nicole Veysey is a reporter for The Tennessee Star and The Star News Network. Follow her on Twitter. Email tips to [email protected]