by Debra Heine
The Justice Department ordered the FBI raid of former President Trump's home in Palm Beach, Florida out of concern that "highly classified national security documents" stored in the estate's basement could be disclosed and compromise "clandestine human sources" used in intelligence gathering, according to a heavily redacted version of the affidavit used to obtain the warrant.
Judge Bruce E. Reinhart on Thursday ordered that a redacted version of the affidavit be unsealed by noon today. The order came hours after the Justice Department submitted a proposal for extensive redactions to the document.
The vast majority of 38-page document was indeed redacted, leaving only a few pages to explain the FBI's unprecedented raid of a former president.
The affidavit states:
The government is conducting a criminal investigation concerning the improper removal and storage of classified information in unauthorized spaces, as well as the unlawful concealment or removal of government records. The investigation began as a result of a referral the United States National Archives and Records Administration (NARA) sent to the United States Department of Justice (DOJ) on February 9, 2022, hereinafter, "NARA Referral.
The government claims that the FBI's investigation "established that documents bearing classification markings, which appear to contain National Defense Information (NDI), were among the materials contained in the FIFTEEN BOXES and were stored at the PREMISES in an unautho1ized location."
According to the affidavit,  boxes containing "newspapers, magazines, printed news articles, photos, miscellaneous print-outs, notes, presidential correspondence, personal and post-presidential records" also contained "a lot of classified records."
In reaction to the release of the affidavit, Trump called the rationale for the raid "a total public relations subterfuge by the FBI & DOJ."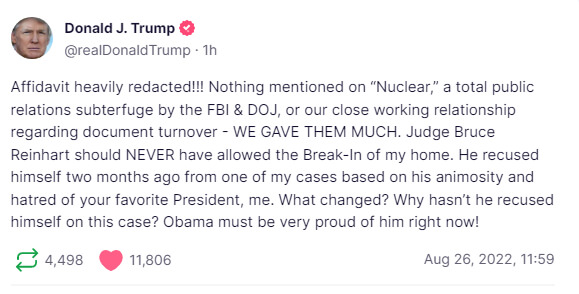 The special agent assigned to case concluded that there is "probable cause exists to believe that evidence, contraband, fruits of crime, or other items illegally possessed in violation 18 U.S.C. §§ 793(e), 2071, or 1519 will be found at the PREMISES."
The penalties for violating these statutes include a fine, disqualification from holding any office under the United States, and up to three years in prison.
The Justice Department heavily redacted its justification for keeping large parts of the affidavit redacted.
DOJ and FBI are so corrupt that they're redacting their reasons for redactions in their justification for raiding a U.S. president's home.

However much contempt you have for these lawless agencies, it's not nearly enough. pic.twitter.com/dUCOqiYVfP

— Sean Davis (@seanmdav) August 26, 2022
In the affidavit, the Justice Department acknowledged that Trump's lawyers and former officials had argued that the former president had "absolute authority to declassify documents." If the DOJ had any response to that argument, it was completely redacted.
In a footnote, however, the affidavit states that the law prohibiting the unlawful gathering, transmission or loss of defense information does not use the term "classified information,"   it criminalizes "the unlawful retention of 'information related to the national defense.'"
Brett L. Tolman, a former U.S. Attorney, and  Executive Director of Right on Crime reviewed the affidavit and shared his thoughts on Twitter:
"I've gone through the redacted affidavit a couple of times now. Including Attachments. I'm not impressed," he wrote. "There are so many concerning issues it is hard to know where to start. I'll try."
It is surprising that Reinhart signed this given that the overwhelming tenor of the unredacted facts are a civil dispute over which documents can or cannot be retained versus sent to NARA. Criminal Intent appears nowhere in the affidavit.

The focus of the facts is less on if FPOTUS may or may not be able to possess but whether docs are in a secure, designated room. No mention that the whole place is secured by the Secret Service.

There does not appear to be PC to search the safe. The safe is also not listed on places to search nor described in the factual justifications.

There is no set of facts revealed to show that the target transported, removed, destroyed, altered or instructed others to do so Re: classified docs.
The affidavit instructs the judge of the applicable law but withholds any mention of court decisions re a POTUS' unfettered ability to declassify and fails to inform the Court that a FPOTUS may fall outside the criminal statute.

Shockingly, it admits that the FBI searched through boxes of documents that NARA had recovered, and did so pursuant to their "criminal investigation" but did not use a Taint Team to ensure they were not reviewing privileged documents.

The brief reference to the article citing Kash Patel's statements that documents were declassified should have given the judge pause that this is not a criminal case and that requisite Mens Rea would be impossible to establish against the target.
"The idea, spelled out in the affidavit, that the Archives sicced the FBI on President Trump – on the premise that unelected bureaucrats, not POTUS, had final authority on national security – can only be construed as an attempt to overthrow our entire democratic constitutional order," tweeted former Trump advisor and founder of America First Legal,  Stephen Miller.
The heavily redacted documents were met with scorn and mockery on social media.
The FBI's playbook:

1) Target your political enemies.
2) Say you can't comment on an ongoing investigation.
3) Leak to the press.
4) Redact your documents.
5) Eventually get caught lying.
6) Keep your job and get a promotion.

Rinse and repeat.

— Mercedes Schlapp (@mercedesschlapp) August 26, 2022
What a joke… "Transparency" pic.twitter.com/CErNfa7TR7

— Eric Trump (@EricTrump) August 26, 2022
Well this really clears things up. pic.twitter.com/6S2FxIQtSi

— Donald Trump Jr. (@DonaldJTrumpJr) August 26, 2022
This is a FARCE! Our "justice" system at work. pic.twitter.com/s0dXIZxaet

— American Firebrand (@FirebrandPAC) August 26, 2022
https://t.co/x1FrQxaiy5 pic.twitter.com/XPm4X0Y95H

— The Right To Bear Memes (@grandoldmemes) August 26, 2022
Trump called the affidavit's rationale for the raid on his estate "a total public relations subterfuge by the FBI & DOJ" in a post on his social media platform "Truth Social."
"Affidavit heavily redacted!!! Nothing mentioned on 'Nuclear,' a total public relations subterfuge by the FBI & DOJ, or our close working relationship regarding document turnover – WE GAVE THEM MUCH," Trump wrote. "Judge Bruce Reinhart should NEVER have allowed the Break-In of my home. He recused himself two months ago from one of my cases based on his animosity and hatred of your favorite President, me. What changed? Why hasn't he recused himself on this case? Obama must be very proud of him right now!"
In a subsequent post, the former president simply wrote in all caps: "WITCH HUNT!"
Late Friday, the former president released an additional statement: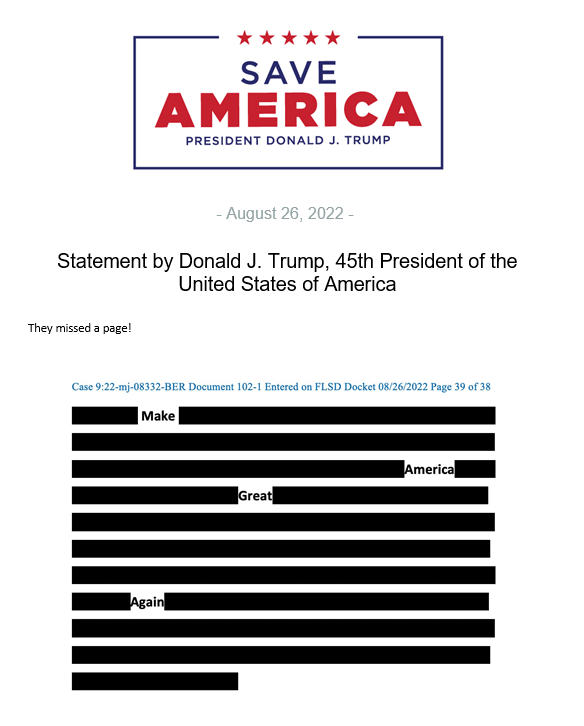 – – –
Debra Heine is a regular contributor to American Greatness.