by Scott McClallen
The Detroit Public Schools Community District (DPSCD) plans to spend $1.2 billion of federal COVID-19 relief to recover from learning loss and revamp its buildings.
The spending plans aim to repair learning loss detailed by test data the state and federal government released this week showing a drop in test scores, and for some students, decades of learning loss.
DPSCD says it will spend $700 million on capital improvements and information technology infrastructure. It plans to spend $168 million on employees and $168 million on academic needs, according to documents obtained by The Center Square through records requests.
DPSCD proposed the following $1.2 billion COVID expenditures from fiscal year 2021 through fiscal year 2024:
Budget transfers for capital improvements: $592 million.
Safe learning: $189 million.
Academic needs: $168 million.
Invest in employees: $168 million.
School upgrades: $104 million.
Student social-emotional needs: $34 million.
Outreach: $15 million.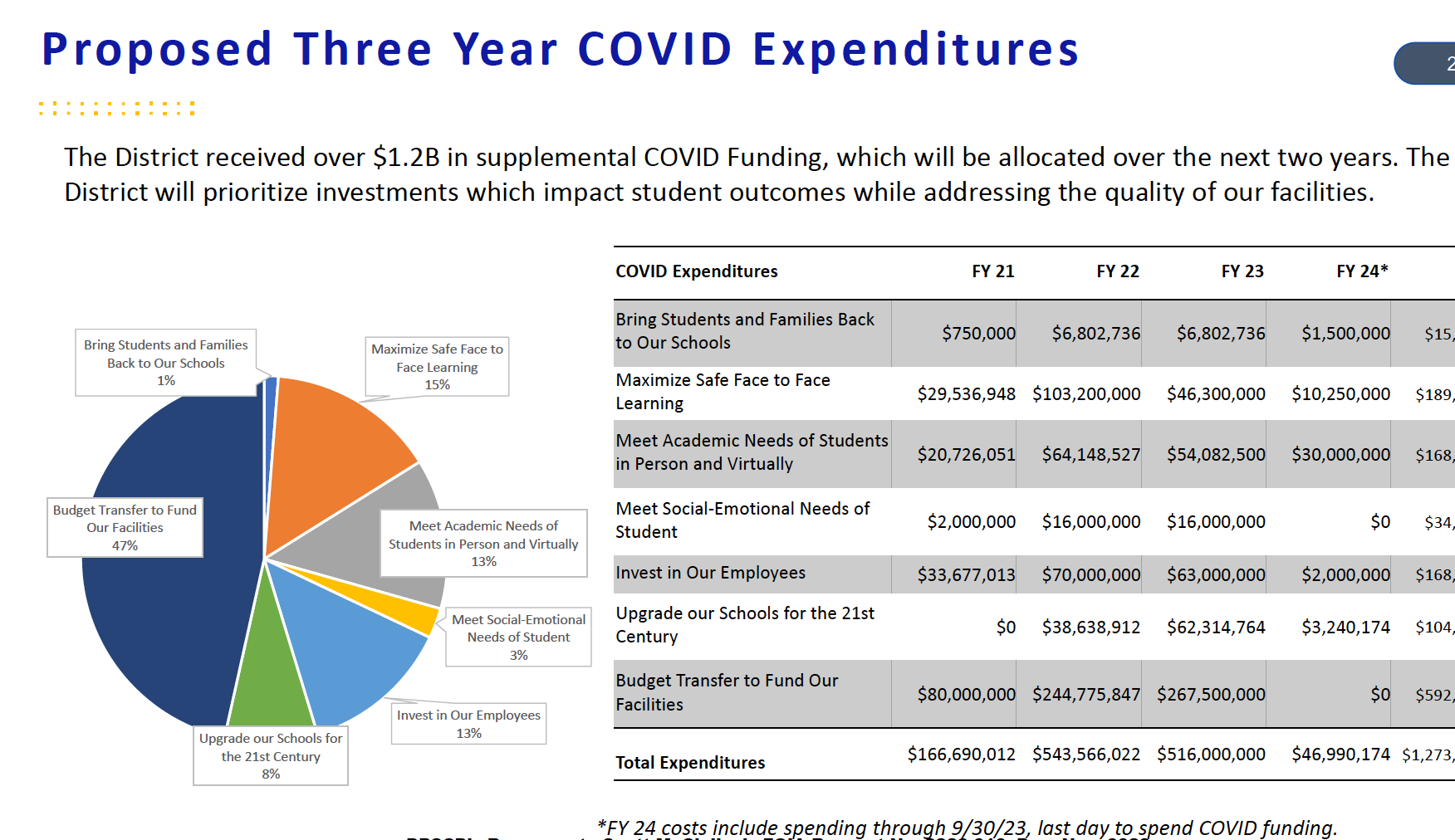 The district plans to increase spending from the 2021 fiscal year by $384 million. The fiscal year 2022 budget includes $543 million of one-time revenue. Inside of that is $244 million in budget transfers, $103 million for in-person learning, $70 million invested in employees, $64 million in academic recovery, and $38 million to upgrade schools.
The budget transfers include $219 million for capital projects, and $25.7 million to backfill lost student revenue. This past spring's enrollment was about 2,000 less than before the pandemic.
Most of the $103 million for in-person learning is on pandemic supply side; there's $37 million to lower class size and build a teacher bench.
The district says that half of the district teachers are within four years of retirement. It's funding a "teacher bench" of an additional 250 teachers to address future vacancies, lower class size for social distancing, and manage student academic needs.
Add another $60 million toward employee investment that goes to one-time pay increases and hazard pay. It is a 6:1 ratio of pay to professional development from that pot of $70 million.
In academic recovery, $36 million – 56 percent of the pot – expands summer, after-school, and tutoring programs.
There is $10 million going to expand mental health services.
The spending spree aims to fight dropping enrollment from a lower birth rate and statewide population loss. Statewide, Michigan lost 25 percent of student enrollment between 2002 and 2020. Since the 2010-11 school year, Michigan public schools have lost nearly 160,000 students.
From 1990-2015, Detroit Public Schools lost 73 percent of student enrollment, dropping from 293,000 students to about 47,000 in 2015, according to the Citizen's Research Council of Michigan. CRCM said that between 2000 and 2010, the district lost an average of almost 8,300 students annually.
In 2016, state taxpayers gave DPS a $617 million bailout. Afterward, in 2020, enrollment broke 50,000 students but fell by 2,000 post-pandemic.
– – –
Scott McClallen is a staff writer covering Michigan and Minnesota for The Center Square. A graduate of Hillsdale College, his work has appeared on Forbes.com and FEE.org. Previously, he worked as a financial analyst at Pepsi.